Salone Del Mobile, Milan, April 2009

Maison Martin Margiela introduces its concepts of interior architecture through an installation, 'Mat, Satiné, Brillant' which recreates the environment and atmosphere of its Interior Design workshop using a variety of creative expressions of the Maison's identity and philosophy.

This is who we are and this is what we do

Founded in 1988 by Belgian born designer Martin Margiela, the Maison has become one of the most influential, visionary and iconoclast fashion brands in the world, best known for its concept of deconstruction, reinterpretation, craftsmanship and transformation of material. The cutting-edge and 'avant-garde' work of Maison Martin Margiela in women's, men's, accessories and 'Artisanal' has been acclaimed worldwide for 20 years by its fashion peers and press, and also worn all around the world with stores in Europe, USA, Middle East, Russia, Japan, Hong Kong and Asia.The Maison has created a style concept with its collections that was rapidly visible through the environment of the brand, its showrooms, show installations and presentations, offices and stores. Beyond the approach and conception of its collections, the unique identity of the Maison was clearly recognizable in the spaces it occupies, with signature elements like the use of whites, cotton fabrics, 'trompe l'oeil', diversion, mix of styles and époque, and hints of humor creating a unique atmosphere and ambiance.In the midst of the development of the architectural care for its 'professional' spaces, the Maison created a small collection of objects & publications (named 'Line 13', 1999). With various exhibitions and events throughout the world, it also developed its activity in the Arts & architectural field. In 2008, the key project of "La Suite – ELLE Décoration" at the Cité de l'architecture et du Patrmoine in Paris (2008/2009) activated the will to pursue and extend this activity more in depth.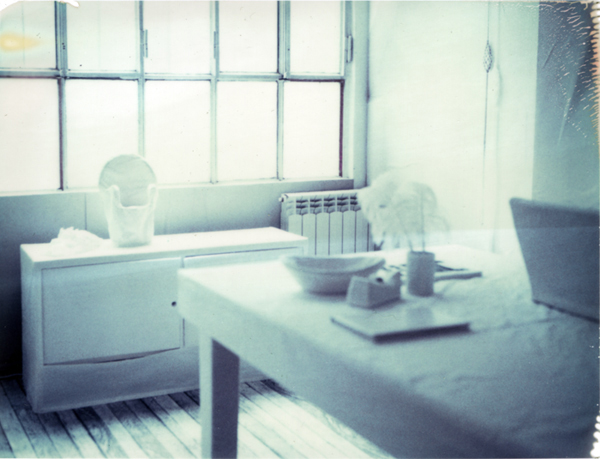 Mat, Satiné, Brillant, April 2009